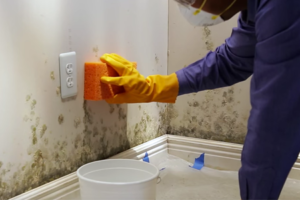 After natural disasters such as hurricanes, tornadoes, and floods, excess moisture and standing water contribute to the growth of mold in homes and other buildings. When returning to a property that has been flooded, be aware that mold may be present and may be a health risk for you and your family.
People at Greatest Risk from Mold
• People with asthma, allergies, or other breathing conditions may be more sensitive to mold.
• People with immune suppression are more susceptible to mold infections. People with a weakened immune system, especially people receiving treatment for cancer, people who have had an organ or stem cell transplant, and people taking medicines that suppress the immune system, should avoid mold.
• Children under 12 should not enter a building with mold damage.
Possible Health Effects of Mold Exposure
• People who are sensitive to mold may experience stuffy nose, irritated eyes, wheezing, or skin irritation.
• People allergic to mold may have difficulty in breathing and shortness of breath.
• People with weakened immune systems and with chronic lung diseases, such as obstructive lung disease, may develop mold infections in their lungs.
RMM Water Restoration is here to help
Within 30 minutes or less, we can arrive at the affected location. We begin setting up services to stop and remove invading mold caused by flooding, burst pipes, sewage backups, or even water damage resulting from fire or natural disaster. Mold damage and its potential spread is often the biggest threat to your life and property. When it comes to containing mold damage, time is of the essence. At RMM Water Restoration, we understand how important it is to act fast.
When we arrive on scene, the mold remediation team from RMM Water Restoration begins by initiating a visual inspection to determine the location of the mold infestation in the property and on all personal possessions within the structure. Many times, however, the biggest danger with mold infestation comes from what you can't see. Black mold spores easily spread to unaffected areas and threaten the entire property. RMM Water Restoration conducts industry-standard air quality tests to detect where spores have traveled. Once our team has determined where mold has spread, we take action to prevent its spread to unaffected areas. The sooner we get into a property, the faster we can remove all contaminates and get your life to normal.